Paparazzi Nights in LA
Photos from here and there
I do not seek these people. They just happen to share my vicinity.
I happened to be at the restaurant Asia de Cuba and club SkyBar, in the Hotel Mondrian, in Los Angeles having dinner with friends at the restaurant (night July 31st, 2006). There was a reception for the Chelsea football team - my eye caught Roman Abramovich and Snoop Dogg as well as most of the Chelsea team players. At some point of time Tony Blair walks into the party.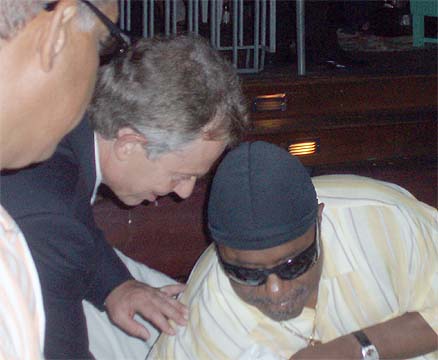 Next to my table was sitting Stevie Wonder having dinner. On his way out Mr. Blair walked by us with security blocking the path from the rest of us mortals. Someone told Mr. Blair that Stevie Wonder was there. Mr. Blair turned around, walked back, had a handshake, and exchanged a few words with him. Then he headed out. Paris Hilton was not there.
More images as things happen ...
Copyright ©: Zafiris Gourgouliatos, 2004. All rights reserved. Art may not be copied or reproduced without permission. For more information please send E-mail to: zafiris[at]zafiris.net