Zafiris Gourgouliatos is an artist who lives and works in Los Angeles, USA. He was born in Greece. He is known for his art, paintings and Byzantine icons. He is well known iconographer. He signs each icon and painting with his traditional Greek name Zafirios.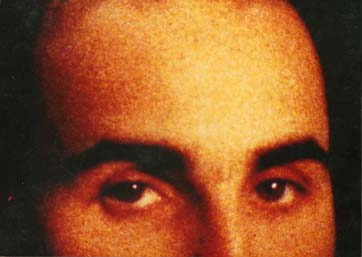 It was around 1987 when it all started. I mean it was when I realized that I was born an artist. Here is a picture of me at that time. It was not posed or set up. It was on a Spring day in the laser lab at the University of Texas at Austin. After taking a series of slides to document an experiment there was one slide left on the film. A colleague cried "look here" and there was a CLICK!
Weeks later I was checking the slides in the microscope to evaluate the results of the experiment. I was documenting my experiment by taking magnified photos of portions of the slide. The last slide I was checking was the slide with my photo on. Again, there was some film left. Took some photos from the slide to finish the film. Here is the picture.