IN LOVING MEMORY
Rev. Filippos Gourgouliatos
March 28, 1934 - September 17, 2005





Dear friends,
My father passed away on Saturday, September 17, 2005 while I was flying back to Greece from Los Angeles. Luckily I had seen him about 10 days before while he was fully conscious and in good spirits. I spent substantial time with him during our last family reunion in August while the whole family was together for the baptism of the latest addition, my niece and his grand-daughter Smaro, born to my sister Doxa.
We had his funeral service the following Monday. There were two bishops, more than one hundred priests and more than one thousand people. He was laid to rest at a cemetery outside Patras. He is survived by his spouse Ellie, eight children, twelve grandchildren, one sister and sixteen nephews.
While the memories of his last days are still fresh, my frame of mind changes often, but for now I am fully aware that the past is intangible, cannot be changed and all we can do is learn from it. What matters is how we live the present and how we prepare for the future. With this spirit, whether it is my father's passing away or remorse from past affairs and deeds, the past belongs to the past. After the debts have been paid, I am looking forward. I do not think this should be taken as a lack of respect or absence of compassion for people I once loved. It is about receiving the blessings that God and nature have in store for us for days to come.
Still, my mind is revolving around death and the meaning of it. Have collected some of my favorite passages on the subject and posted them. Check On Death and Dying.
Below are some of his latest pictures from August 21, 2005.
Yours truly,
Zafiris
October 2005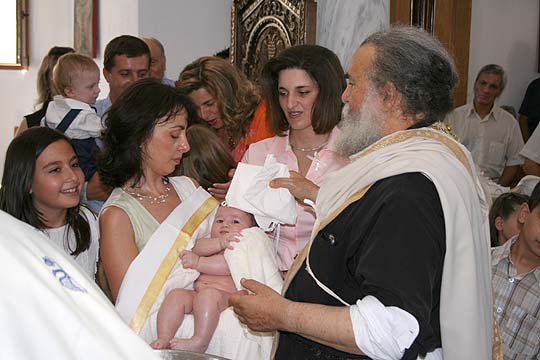 Blessing the garments of grandchild Smaro, after baptizing her.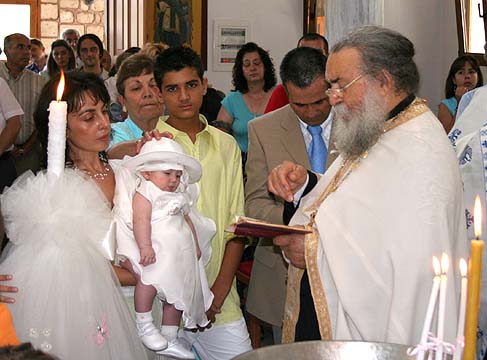 Reading one last prayer before the baptism is concluded.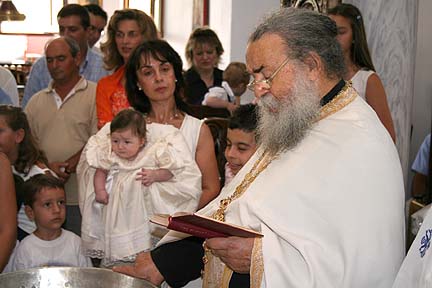 Blessing the water with the family around him.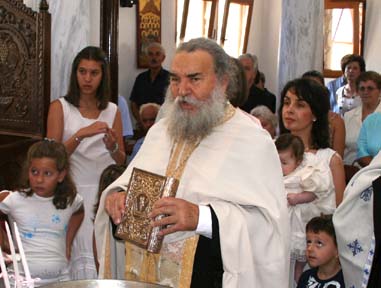 Getting ready to read the Gospel.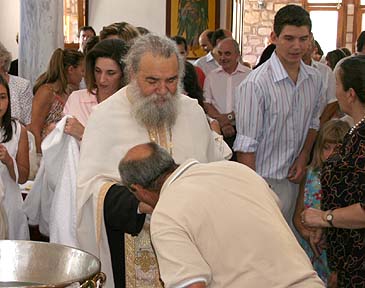 Receiving respects from one of the attendants.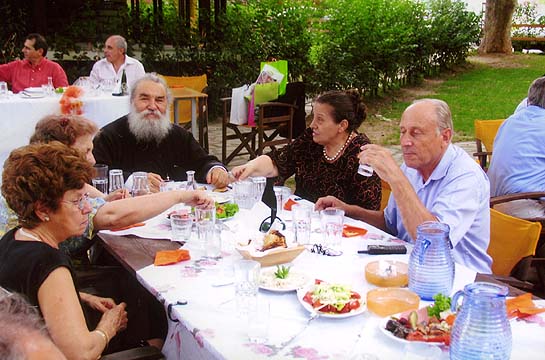 At the reception lunch that followed the baptism.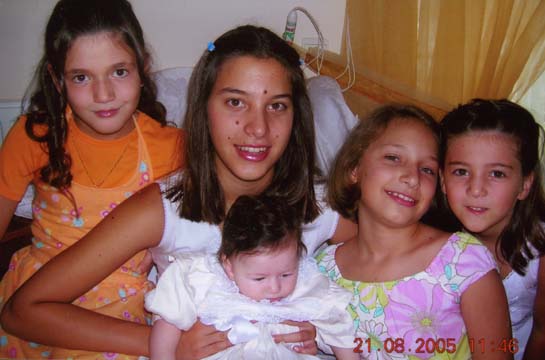 Granddaughters Thomais, Konstantina, Smaro, Ellie and Ellie.
***************
Copyright ©: Zafiris Gourgouliatos, 2001-2004. All rights reserved. Not to be copied or reproduced without permission. For more information please send E-mail to: zafiris@zafiris.net